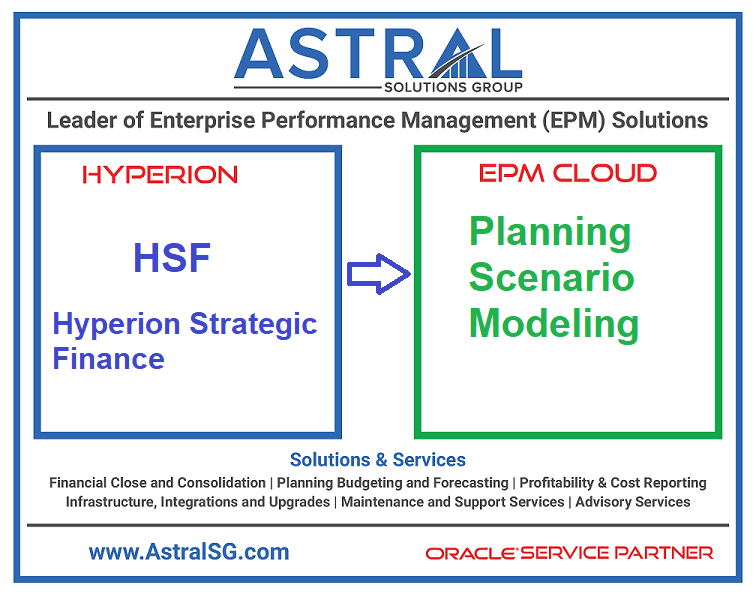 Hyperion Strategic Finance (HSF) migration to Oracle Cloud EPM Planning Scenario Modeling.
Astral Solutions Group team is working closely with our clients who are using HSF for their long-range planning and scenario modeling. HSF is no longer available in Hyperion version 11.2. Oracle Cloud EPM is an obvious choice for users to migrate HSF to Oracle Cloud EPM – Planning Scenario Modeling.
Oracle EPM Cloud has a prebuilt financial modeling functionality with EPM Cloud planning. EPM Cloud enable users to create long range forecast models, debt and capital structure management features.
Scenario Modeling Solution in Oracle Cloud EPM enable finance organizations to stay agile and remain one-step ahead.
We have worked with client's move HSF to Oracle Cloud EPM and here are the steps to migrate HSF models and templates to Oracle Cloud EPM Planning Strategic modeling:
Hyperion version 11.1.2.4 is required for migration path.
Save the models to local files by saving using option "Take Offline".
Enable Strategic Modeling in Oracle Cloud EPM Planning.
Migrate HSF models (Entity Structures) to Strategic Modeling
Create models and templates using local files by following 2 methods.

Migrate model using Browser
Migrate model using Smart View

Build Consolidation.
Strategic modeling ribbon available in SmartView to perform activities similar to HSF.
Models' security setup is done after setting up the models.
Access models from SmartView excel and using web.
Oracle EPM cloud Planning Strategic modeling offers similar functionality to HSF.
Astral Solutions Group is working with customers for Oracle Enterprise Performance Management road (EPM) map. We also work with clients to see if Oracle Cloud EPM is part of their strategic road map or make sense to do on-premises upgrade. We have our own Oracle Cloud EPM environments and Hyperion 11.2 Lab.  You can reach out to us if you would like to see any of the Oracle Cloud EPM product or want to look at Hyperion version 11.2.  We are Oracle Service partner and work closely with Oracle to provide you best service and get the best value of your EPM investment.
You can contact us and we would love to share our experience with Oracle Cloud EPM and Hyperion 11.2 installations upgrades and migrations.