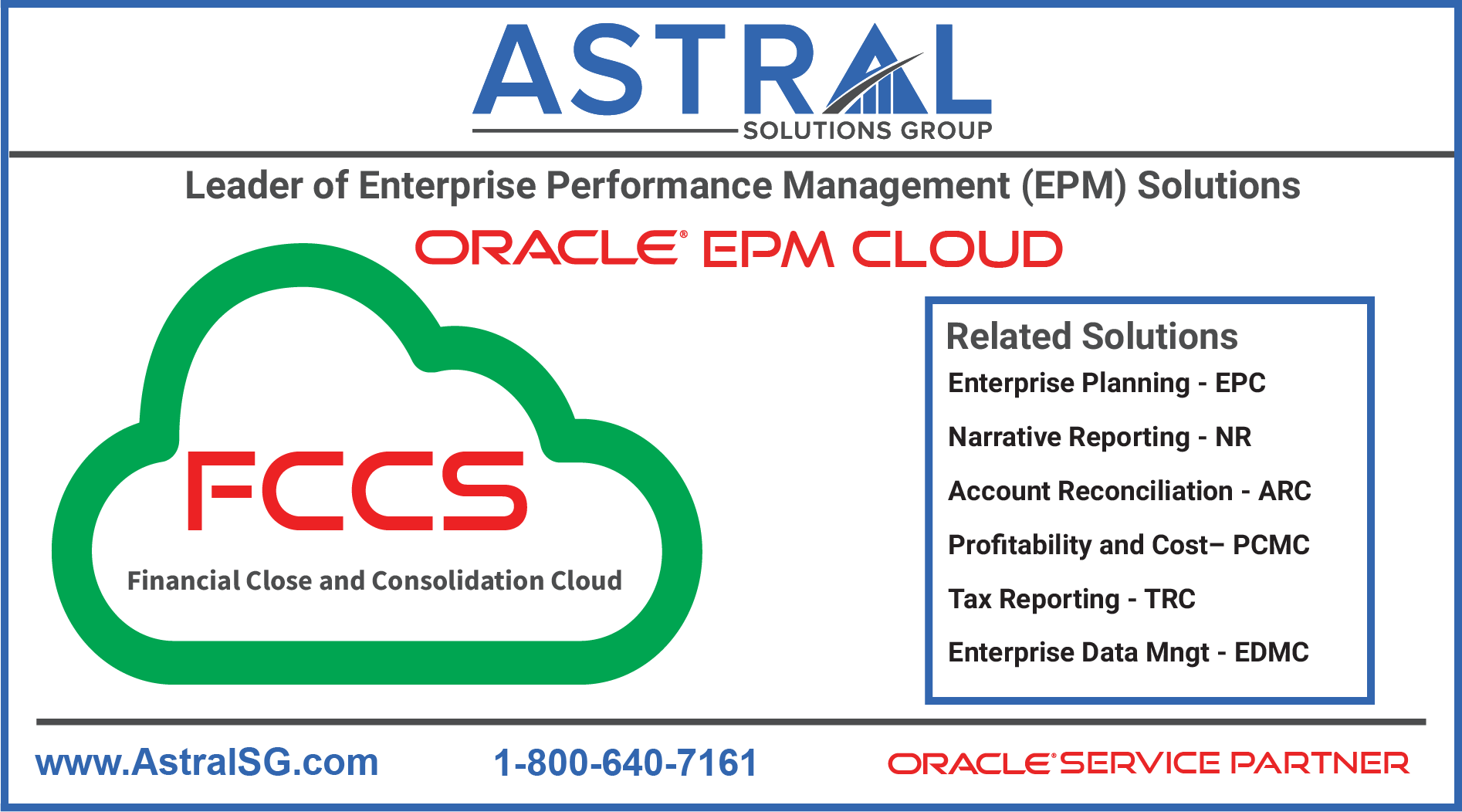 The Oracle Enterprise Performance Management (EPM) suite's Financial Close and Consolidation Service (FCCS) is a cloud-based application created for businesses of all sizes and in all sectors. It is a comprehensive financial consolidation and reporting platform that enables enterprises to manage and combine financial data from various sources in a unified environment.
FCCS automates and simplifies the complex process of financial consolidation and reporting, allowing businesses to close their books more quickly, catch fewer mistakes, and provide more accurate data. In addition to balance sheets, income statements, cash flows, and other financial indicators, it offers various features and functionalities that assist enterprises in consolidating their financial data.
In this blog, we will discuss what FCCS is in Oracle EPM Cloud and explain its benefits for organizations.
What is FCCS in Oracle EPM Cloud?
Organizations may plan, budget, and anticipate their business operations with the help of the Oracle EPM suite of integrated apps. One of Oracle EPM's foundational modules, FCCS, was created to support modern enterprises' financial consolidation and reporting needs. It is a cloud based SAAS platform for financial consolidation and reporting and integrated with other EPM functional modules.
FCCS provides:
A consistent, consolidated platform for handling financial data.
Enabling businesses to combine data from many sources, such as subsidiaries.
Joint ventures.
Other corporate units.
A consistent chart of accounts eliminates the need for manual data mapping and streamlines the consolidation procedure.
Companies may combine financial data from several nations and regions and thanks to FCCS' support for multiple currencies and automated currency conversion. Furthermore, it provides comprehensive reporting features, such as financial statements, variance analysis, and KPI dashboards, which shed light on financial performance and trends.
Benefits of FCCS in Oracle EPM
Faster Financial Close

FCCS enables businesses to close their months more quickly and spend less time and effort consolidating financial data. Many manual steps in financial consolidation, such as data validation, intercompany eliminations, and currency conversions, are automated. As a result, the financial closing process is expedited and made more accurate, lowering the possibility of errors and guaranteeing regulatory compliance.

Improved Data Accuracy

To ensure data quality and consistency throughout the business, FCCS offers a consolidated platform for managing financial data. It does away with the necessity for manual data mapping and reconciliation, lowering the possibility of mistakes and enhancing data quality. Based on reliable financial data, this enables firms to make better decisions.

Streamlined Financial Consolidation

Using an automated intercompany elimination method and a uniform chart of accounts, FCCS streamlines the financial consolidation procedure. This reduces the manual operations necessary for financial consolidation, increasing efficiency and lowering the chance of mistakes. Additionally, it enables businesses to combine financial data from many sources, such as subsidiaries, joint ventures, and other commercial entities.

Enhanced Reporting Capabilities

Financial statements, variance analysis, and KPI dashboards are just a few of the extensive reporting tools that FCCS provides. Organizations are given insights into financial performance and patterns as a result, allowing them to make more intelligent decisions. Also, it makes it possible for businesses to follow regulatory reporting guidelines and maintain financial reporting standards.

Scalability and Flexibility

Because FCCS is a cloud-based solution, businesses may scale it up or down as necessary. It reduces IT expenses and frees enterprises to concentrate on their core business operations by eliminating the necessity for on-premises software and equipment. Additionally, it gives businesses a foundation for expansion by allowing them to combine financial data from growing numbers of subsidiaries and commercial entities.
Conclusion
In conclusion, Oracle EPM Cloud FCCS is a fantastic financial consolidation and reporting tool that offers various features and functions for businesses of all sizes and in multiple sectors. Many laborious financial consolidation procedures are automated, increasing data accuracy, reporting capabilities, scalability, and flexibility. It is a cloud-based solution that helps businesses concentrate on their core operations, lower IT expenditures, and achieve compliance with financial reporting standards. Organizations can improve their financial consolidation and reporting processes, make smarter decisions, and reach their financial objectives by utilizing the advantages of FCCS.
Contact us and we would love to share our experience with Oracle EPM cloud. Please email at info@astralsg.com to learn more about our experience with Financial Consolidation and Closing Service (FCCS).