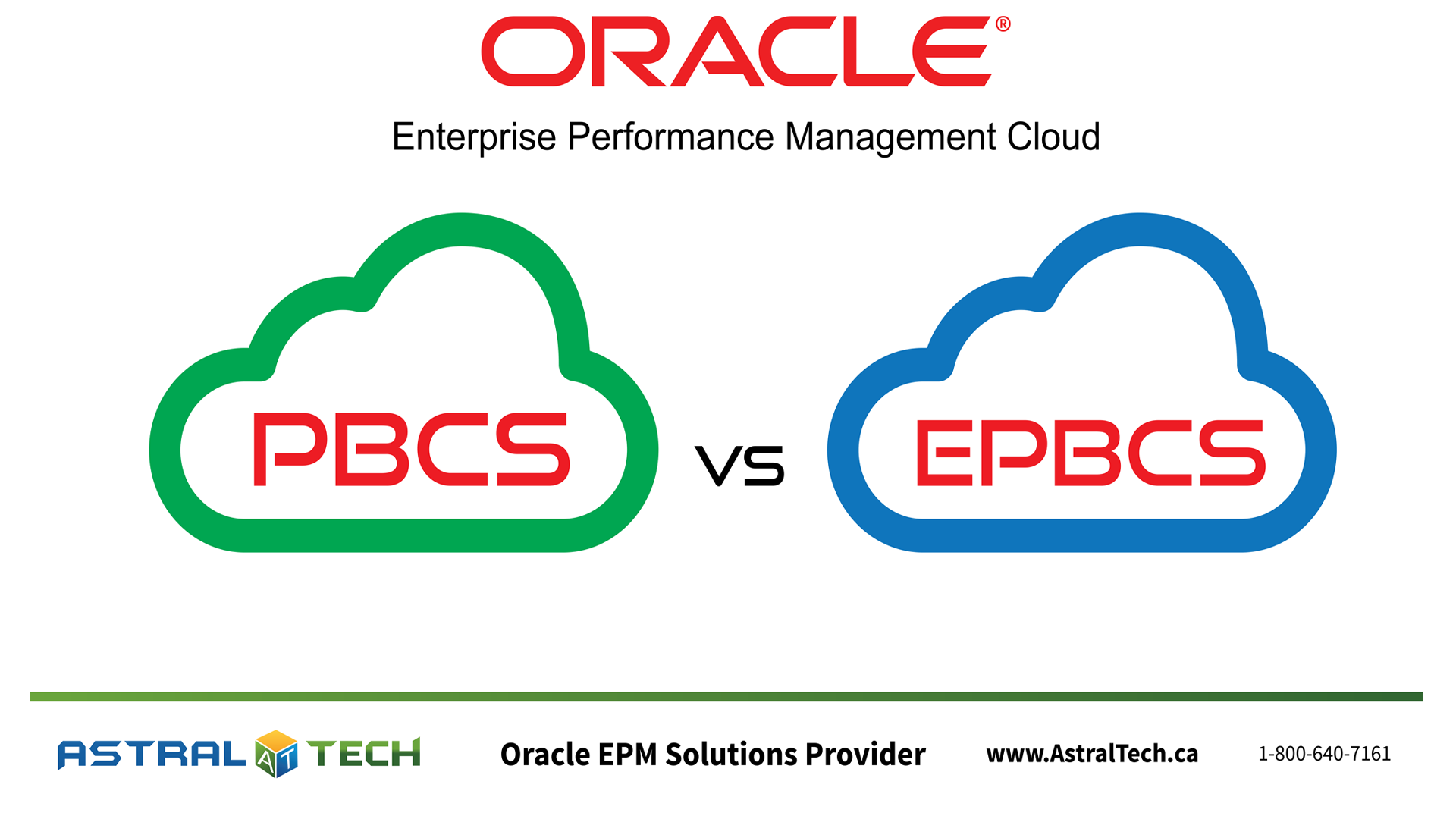 Are you considering an Oracle cloud-based planning solution then you have two choices: PBCS and EPBCS
"What is the difference between PBCS and EPBCS?" We are frequently asked this question. I would like to go over features and functionality in both solutions.
PBCS and EPBCS both solutions are built from on-prem Hyperion Planning and it is mature and proven system.
Two environments are available with purchase of either PBCS or EPBCS subscription. Each environment has 3 BSO Plan Types and 3 ASO Plan Types and consolidated reporting cube. Each environment only contains a single Planning application with multiple plan types. As with all the other Oracle Enterprise Performance Management (EPM) solutions, this one also includes Smart View, so that users can continue to work with their familiar Excel interface.
In PBCS, there is no pre-built content and blank slate of Plan Types are available to build custom application.  Like the on-prem version of Planning, PBCS allows for flexibility to make changes to business rules and templates behind the business rules. Client can migrate an on-premise Planning application into a PBCS relatively easily.
On EPBCS: Client also gets two environments Test and Production with 3 BSO plan types, 4 ASO plan types with pre-built business processes, logic and reports. In an on-premise world we referred to these as modules but in the move to the cloud, the nomenclature was revised to be business processes. These business processes are much more than just a move of the on-premise module into the cloud. Several are net-new and those that are not new have significant rewrite, improvement, and enhancement.
Diving into the business processes, you get:
Financial : Integrated driver -based Planning for Income Statement, Balance Sheet and cash flow.
Workforce : Headcount and compensation planning to link financial plans with the workforce
Capital : Planning for the long-term impact of capital assets on financial plans
Projects : Bridging the gap between project-planning systems and the financial planning process
EPBCS is a start anywhere application as well. You don't need to do all of the business processes right away. You can build just your financials to start and then add other business processes as your needs grow.
Making the Decision
When deciding on whether to purchase a PBCS subscription or an EPBCS subscription it basically comes down to the built-in business processes and content. If you don't have a need for the business processes, PBCS will work just fine. If you want rapid deployment of best practice business processes, EPBCS will be the solution for you.
EPBCS is more costly option than PBCS. PBCS subscription is USD $120 per user per month compare to EPBCS is USD $250 per user per month.
PBCS allows for customization around your specific organization needs and though your monthly investment is cheaper, you'll have to invest time and energy in customizing your environment.
Astral Tech's experienced PBCS and EPBCS team can access and advice the right solution if e looking to migrate your current Hyperion Planning on-prem to Cloud or would like to see the Oracle Planning and Budgeting cloud solutions. Please feel free to reach out to me if you have any questions related to PBCS or EPBCS. dsohi@astraltech.ca . PH 416 918 4356